The History of the American Pony Car
Chapter One: The Originals, 1964½ to1968
It's April, 1964. The first wave of "Baby Boomers" are now in their late teens. They want an affordable sporty coupe that is fun to drive. So do a lot of other Americans but they also want to be able to carry their family or friends along. What would they call it? A sports car with a back seat?
The folks at Ford Motor Company had a winner on their hands when they created the Thunderbird in 1955. If they had simply stretched their bird just long enough to add a rear seat the pony car era would have begun a decade sooner. They did add a back seat three years later when they restyled it. It's just too bad they also transformed the fun little roadster into a big fat luxury tank.
| | |
| --- | --- |
| | |
| 1955 T-Bird | 1958 T-Bird |
| | |
| --- | --- |
| 1964 Corvair Monza Spyder | Chevrolet actually discovered the sport coupe market back in 1960 when it came out with the Corvair Monza but it suffered from bad publicity after Ralph Nader condemned it's rear-mounted engine design. People didn't trust that car, and besides, they wanted more power! The Monza Spyder's turbocharged six cylinder was cranking out 150 horses but that was not enough. They were ready for the V-8 pony car. |
The credit needs to go to Ford and marketing genius Lee Iacocca for making it all happen. They already had the Falcon, a successful, although unexciting compact car. What if they moved the cabin back some (no cab-forward design here!) to create a longer hood and shorter trunk? Put on an aggressive face and redo the rear end? Presto! The Mustang was born.
| | |
| --- | --- |
| | This '65 was the first car I ever bought. I paid $500 for it in 1972 when I was 19. It had three on the floor with a sweet 289 V-8. It cornered well but the steering was sluggish and it rode like a truck. I learned how to drive a stick shift on this car and also how to replace a clutch and transmission! |
Since it was built on the Falcon chassis costs were kept down and so was the purchase price. The car was big enough for a V-8 engine, which helped to make the car fun to drive in spite of the clumsy handling it inherited from the Falcon's crude suspension. The right size, the right looks, the right engine at the right price. How successful did this formula turn out to be? Over 418,000 Mustangs were bought in its first year from April, 1964 to April 1965!
1964½ Barracuda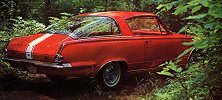 Chrysler Corporation restyled its Plymouth Barracuda just in time to go head to head with the Mustang in the Spring of '64 but even its unique bubble fastback wasn't enough to sway very many buyers away from Ford's pony which outsold it 10 to 1.