Page 5
Chapter Three: Bigger is Better? 1971-1974
In 1970 the economy was booming, gas was cheap and emissions controls were reasonable. The trend in the auto industry at that time was "bigger is better" and by 1971 every pony car had grown wider, longer and heavier. They were a new breed, more roomy and refined with a better ride which made them more comfortable. This strategy lured some new customers into the pony car corral but turned off the purists who were sad to see their rough and tough stallions gone forever.
| | |
| --- | --- |
| 1971 Camaro | 1974 Firebird Trans Am |
| | |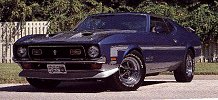 1971 Mustang


The fate of the Camaro was in danger when a strike at the Camaro assembly plant (Lordstown, Ohio) turned into a disaster in 1972. The walkout stranded thousands of bodies on the assembly line and by the time it was over, these cars were unfit for sale under new federal safety standards. General Motors was forced to scrap the bodies and almost decided to do the same with the Camaro/Firebird program. Chevrolet engineer Alex Mair fought successfully for survival of the Camaro which went on to higher sales


One car stands out as perhaps the best large pony (or horse) of them all. AMC completely restyled their Javelin in 1971. It came out wider, longer and lower but not much heavier. It had a roomy back seat, unusual for a pony car. Well balanced with a good ride and decent handling it received all new skin that was absolutely stunning. Remember those raised fenders? The AMX was no longer offered as a two seater but was basically a souped up Javelin with a different grill.
| | | |
| --- | --- | --- |
| | 1974 Javelins | |
I bought the Javelin on the left in 1978. I really liked that car. It was roomy, comfortable and yet fun to drive. It had a cockpit that surrounded you. It's been 20 years since I sold it but it is still my favorite car of all time. I hope to find one to restore one day if I can find parts for it!
1971 was the last year for high compression, high performance engines. In the following years tighter government mandated emissions controls would steal some of the much needed horsepower from the pony cars which by now had grown into full size horses. Their smog controlled low compression engines also got lousy gas mileage, which was not a good thing when the gas shortage hit in 1973. Bigger was no longer better and people didn't want to buy gas guzzlers. If that wasn't enough, insurance companies began raising their rates on muscle cars.
Ford put it's bloated horse to sleep in 1973 so it could try out a new concept on an economical luxury car, the 1974 Mustang II, which was actually just a re-engineered Pinto. Mustang II maybe, but a Mustang...not quite.
| | | |
| --- | --- | --- |
| | 1974 MustangII | |
I was born too late! By the time I was able to buy my first new car the Mustang was not really a Mustang anymore. I liked that Ford made it small again, but the biggest engine I could get was a V-6 that only put out 100 horsepower. At least it got 25mpg. The interior was nice and plush, too.
The Cougar was a nice looking car until Mercury turned it into an ugly monster in 1971. I'm not even going to show its picture on this web site. By 1974 it was as big as the overgrown T-bird and weighed over 4,200lbs! Chrysler gave up on its Barracuda and Challenger after 1974. It's a shame they never really had a chance to catch on, getting into the game as late as they did. When they first came out in 1970 Cuda's and Challenger's combined sales were 138,531. Just four years later they were down to 28,171. AMC also "flew" out of the pony car market and "threw away" its sporty image when it "tossed" its Javelin (sorry about that, I couldn't resist it!) at the end of 1974.