Page 7
Chapter Five: Born Again, 1993-Present
Were the days of real pony cars gone forever? We had to wait almost 20 years to find out. In 1993 GM finally restyled their Camaro and Firebird. They were beautiful and they were fast. Ford revived its pony the following year by producing a great looking Mustang but it was slow, with a lame V-8. All three convertibles were back as well and looked really nice.
1967 & 1994 Z/28 Camaros

1969 & 1995 Firebirds
| | |
| --- | --- |
| 1965 Shelby Mustang | 1995 Mustang GTS |
In 1999 the Camaro and Firebird received cosmetic surgery (the Firebird way too much!) and the Mustang shed its smooth rounded lines for sharp angles everywhere. It actually looks more like the 64½ original pony, though. The big news however, is that these babies can move! All of them can crank out over 300 horses, which is pretty close to the "good old days". Too bad they cost about $30,000. They are no longer the affordable sports cars they used to be. The combination of higher purchase prices with higher gas prices is making the pony car an endangered species once again.
| | |
| --- | --- |
| 1999 Camaro | 1999 Firebird |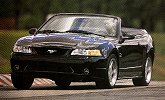 1999 Mustang
I hope you've enjoyed our trip back to the muscle car era, when there were dozens of "race cars" you could order right from the factory. There were more people excited about cars as we watched with great anticipation what the big four would turn out each year. What has happened to the passion and sheer fun of the drive? It's harder to find these days and it's a whole lot more expensive to get behind the wheel of a car that's fast and a blast to drive. Maybe I'm just a little nostalgic and like to remember those days of unbridled performance. May the classic pony cars that are still out there live long and prosper!